Click Here To Visit The Dolenz, Jones, Boyce & Hart Website
Tommy Boyce (born on September 29, 1939 in Charlottesville, VA) and Bobby Hart (born on February 18, 1939 in Phoenix, AZ), the songwriting and (later) performing team are most famous for writing several of the Monkees' big hits, including "Last Train to Clarksville," "Valleri" and "(I'm Not Your) Stepping Stone." Together and separately, they also wrote or contributed to hits by several other acts in the 1960s, including Freddie Cannon, Curtis Lee, Little Anthony and the Imperials, and Jay And The Americans. In 1967 they began recording on their own as a duo, landing a Top Ten hit the same year with "I Wonder What She's Doing Tonite." Based in Los Angeles, Boyce and Hart were a West Coast equivalent to the kind of craftsmanship and methodology espoused by Brill Building songwriting teams, although their material was less meaningful and enduring than Goffin-King's or Barry-Greenwich's. They emphasized bright, happy, AM radio melodies with room for lots of vocal harmonies, an appropriate vibe for the Monkees and other acts; it was typical of the L.A. late 1960s pop-rock that would retroactively be dubbed "sunshine pop."

It wasn't until 1965 that the Boyce-Hart partnership took off in earnest, as they were signed to the Screen Gems publishing company. They knocked off some energetic pop-rockers that were recorded by bands like Paul Revere And The Raiders ([I'm Not Your] Stepping Stone") and the Leaves ("Words"), as well as the theme for the soap opera "Days of Our Lives."

They found themselves in the right place at the right time when they were commissioned to write a few songs for the pilot episode of The Monkees (including its famous theme song). Because the Monkees were going to be on TV every week, they needed a steady supply of songs fast, which helped assure that Boyce and Hart placed many of their tunes with the group. These included not only a few hits, but also many album tracks; about half the songs on the Monkees' first album were Boyce-Hart tunes. The Monkees even redid some Boyce-Hart songs, such as "(I'm Not Your) Stepping Stone," "Words" and "Tomorrow's Gonna Be Another Day."

Boyce and Hart's material may not have been the first choice of what the group  and specifically their most experienced songwriter, Mike Nesmith  wanted to record. But Boyce-Hart's knack for AM-friendly pop hooks and chipper, just-this-side-of-bubblegum arrangements were very much in tune with the image projected by the group on their show. Boyce and Hart were also involved in the Monkees' first two albums as producers, a role they returned to on the Monkees' then-final, desultory albums in 1969 and 1970.

Starting in 1967, Boyce and Hart also recorded on their own for A&M Records. Aside from "I Wonder What She's Doing Tonite," however, none of their efforts made the Top 20 or came close to that song in quality, although "Alice Long (You're Still My Favorite Girlfriend)" and "Out & About" both made the Top Forty and "We're All Going to the Same Place" and "Goodbye Baby" charted in lower positions. Boyce and Hart split up, both as songwriters and performers, at the end of the 1960s, but had a short reunion during Dolenz, Jones, Boyce and Hart. Boyce committed suicide on November 23, 1994 after a lengthy struggle with illness and depression. --- by Richie Unterberger / edited by Monkeesrule43 Online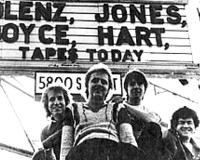 This semi-Monkees reunion came to be when Christian DeWalden, a friend of Bobby Hart's, suggested that Bobby, Tommy Boyce, Davy Jones & Micky Dolenz get together for a tour.  Soon before, all four Monkees had met at Micky's house to discuss reunion offers, such as a McDonald's commercial and some TV appearances. Although everyone was enthusiastic about the possibility of getting back together, nothing came out of the meeting.  This left the door open for the singer & songwriter reunion DeWalden had come up with.  Originally, the band wanted to call themselves "The Monkees," but due to legal reasons, they weren't granted use of the name and went on to use their own names.  Advertised as "The Great Golden Hits of The Monkees: The Guys Who Wrote 'Em & The Guys Who Sang 'Em," Dolenz, Jones, Boyce & Hart performed their first concert on July 4, 1975 at Six Flags Over Mid-America in St. Louis, MO before a crowd of over 12,000 fans.  Their concerts included a mix of Monkees and Boyce & Hart classics.  During their existence, DJB&H made guest appearances on "American Bandstand," "Don Kirshner's Rock Concert," & other shows to promote their North American tour before eventually heading off to Japan & Thailand.  Interestingly, DJB&H is the first American band in history to play in Thailand.  Due to their initial popularity, Capitol Records offered the guys a recording contract, and they soon released their first and only studio album of new material in May 1976, titled "Dolenz, Jones, Boyce & Hart." The band's first single, "I Remember the Feeling" sold fairly well in some markets and regions, but the album didn't make a dent on the charts.  In mid-1976, a TV special that was directed by Micky, called "The Great Golden Hits of the Monkees," was filmed featuring the guys singing songs and performing comedy bits. The special first aired in the US in 1977 and saw a VHS release only in Japan & the UK in the 80s. Perhaps the highlight of this semi-Monkees reunion was on July 4, 1976 when Peter Tork made a guest appearance with the guys at a concert in Disneyland.  After this special event, the three original Monkees went into the studio to record "Christmas Is My Time of Year" & "White Christmas," which would be released to fan club members later that year.  On July 20, 1976, one of DJB&H's concerts at the Yubin Chokin Hall in Tokyo was recorded for a live album release.  But, after disappointing sales of their studio album early that year, the tapes were locked in the vault until its 1981 release in Japan when a Monkees resurgence hit the country.  The album would eventually see a US release in 1996 on CD, during The Monkees' 30th Anniversary.  By the time 1977 rolled around, DJB&H went their separate ways while Micky & Davy continued touring for a few months before heading to England for Harry Nilsson's "The Point."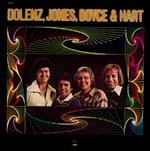 1.)  Right Now

2.)  I Love You (And I'm Glad That I Said It)

3.)  You and I

4.)  Teenager In Love

5.)  Sail on Sailor

6.)  It Always Hurts More In the Morning

7.)  Moonfire

8.)  You Didn't Feel that Way Last Night (Don't You Remember)

9.)  Along Came Jones

10.)  Savin' My Love For You

11.)  I Remember the Feeling

12.)  Sweet Heart Attack

"Dolenz, Jones, Boyce & Hart"

Capitol ST-11513

Released: May 1976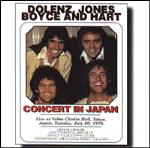 "Concert In Japan"

LP:  Capitol/Toshiba-EMI ECS-91018

August 1981

     CD:  R-Varese Vintage VSD-5625

June 1996

1.)  Last Train to Clarksville

2.)  Medley: Valleri / Daydream Believer / A Little Bit Me, A Little Bit You

3.)  I Wonder What She's Doing Tonight

4.)  (I'm Not Your) Steppin' Stone

5.)  I Wanna Be Free

6.)  Savin' My Love For You

7.)  Pleasant Valley Sunday

8.)  I Remember the Feeling

9.)  A Teenager In Love

10.)  Cuddly Toy

11.)  Medley: Come a Little Bit Closer / Pretty Little Angel Eyes / Hurt So Bad / Peaches 'N'

      Cream / Something's Wrong With Me / Keep On Singing

12.)  I Love You (And I'm Glad That I Said It)

13.)  Action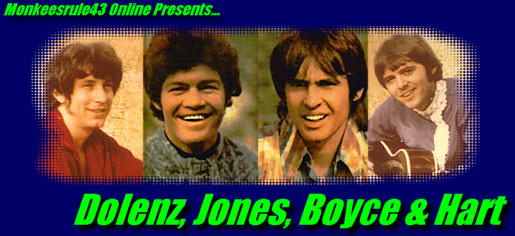 Page URL: http://www.monkeesrule43.com/

djbh.html

Site Best Viewed With:

Internet Explorer / Medium text size / 800x600 screen resolution / Javascript enabled / Flash installed

Disclaimer:

All photos are property of their respective owners / All content is © Monkeesrule43 Online unless otherwise noted.

Didn't find the information you were looking for?  Want to send comments or suggestions?

Email the Webmaster at: