TOP HEADLINES:

- Please excuse any broken links/images. Site is being migrated to a new server.

-  Monkees CDs reissued by Rhino Records!

To get all of the latest Monkees headlines, visit the
news
page.
Thanks for visiting Monkeesrule43 Online, an
official
Monkees site that is your one stop on the web for MonkeeMania! Since its opening in May 2001, this site has become one of the most popular and frequently updated sources for Monkees news & information on the internet. Be sure to subscribe to our
news & update email list
and come back often to check out our newest features.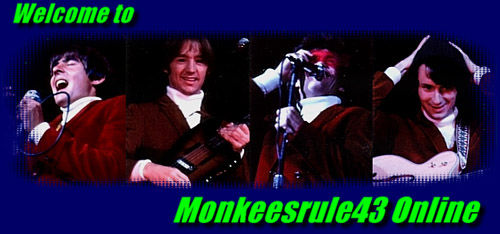 Site Last Updated On: March 4, 2011

Vote for Monkeesrule43 Online!

(You may vote once per day)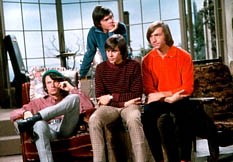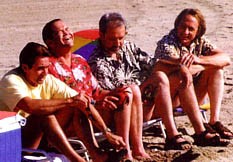 The "Monkees" name and logo are trademarks of
Rhino Entertainment Company
.  Any unauthorized use of these trademarks is strictly prohibited and may subject the offender to civil liability and criminal prosecution.
Page URL: http://www.monkeesrule43.com/

index2.html

Site Best Viewed With:

Internet Explorer / Medium text size / 800x600 screen resolution / Javascript enabled / Flash installed

Disclaimer:

All photos are property of their respective owners / All content is © Monkeesrule43 Online unless otherwise noted.

Didn't find the information you were looking for?  Want to send comments or suggestions?

Email the Webmaster at:








Like this site?

Let somebody know about it!